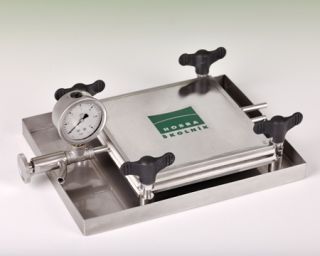 HOBRACOL 200 MIKRO sheet filter is designed for low-volume filtration of liquids. Due to its full stainless steel design it may be operated in temperatures ranging from -20°C to +110°C and may be utilized in a number of industries.
The product is mainly used for applications in the distillation industry, pharmaceutical industry, biotechnology, winegrowing and research. Using only two filter sheets 200x200 mm minimizes the potential loss in the case of small volumes of filtered product.
Documents to download:
HOBRACOL 200 MIKRO (151.9KB, .PDF)

Applications:
Wine
Beer
Alcoholic beverages
Soft drinks
Food
Chemistry
Pharmacy
Oil and biofuel

Characteristic - Hobracol
HOBRACOL sheet filter equipment features a compact design and is manufactured of high-quality stainless steel. The supporting plates can optionally be supplied, made from stainless steel or Noryl (plastic).
HOBRACOL sheet filters can be equipped with chambers and supporting plates for precoating filtration and with a rotary (diversion) sheet for gradual (double stage) filtration.
HOBRACOL has rich basic equipment and a wide range of accessories. One can choose from manual, electro-hydraulic or manual-hydraulic clamping. The connection of the appropriate pump directly to the equipment is also possible. The respective filter sizes may vary in the basic equipment. HOBRACOL sheet filters are applied in the food, beverage, pharmaceutical, chemical, cosmetic and biochemical industries, and in applications such as the filtration of water, technical and cooking oil or biofuel. "VS" versions of our sheet filters, specially designed and constructed for the beverage industry, including the wine industry and featuring the best quality-price ratio, are being launched on the market gradually.
Documents to download:
Product leaflet HOBRACOL (1.3MB, .PDF)